How to shut off your gas supply at the meter
Each natural gas meter assembly includes a valve so the gas supply can be shut off from the outside before it enters the meter. This shut off valve is located just above the ground and before the meter.
The shut off valve has a raised indicator to show the position of the valve. If the raised portion of the valve is in-line with the pipe as shown, the valve is in the open position and gas will flow through the meter.
Shut off
To shut off the supply of gas, turn the valve so the indicator is perpendicular to the piping as shown. This will prevent any gas from passing through the meter. In case of a leak inside the house, this shut off can be used to prevent any gas from entering the house.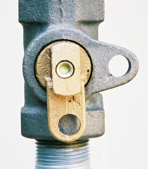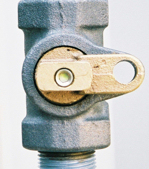 Suspected leaks
If a leak is suspected, call North Alabama Gas District:
256-383-3306 (Colbert and Lawrence County Areas)
256-772-0227 (Madison and Limestone County Areas)
Phones are answered 24 hours a day, seven days a week.